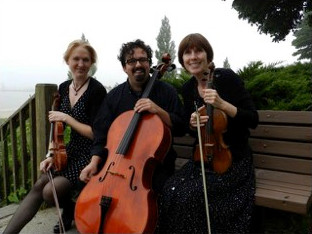 About Bach to Bacharach
Bach to Bacharach String Trio is a professional group based in the West Michigan area. In September of 2006, we were the featured artists in the New Buffalo Performing Artists Series and in February of 2007, we were featured in the Southwest Michigan Symphony Orchestra's "Around Town" series. Our repertoire includes a wide variety of unique arrangements encompassing all musical periods, from the baroque era to modern popular music. We have performed at numerous weddings, receptions, parties and special events.
For an additional fee the group can also perform as a quartet. We look forward to working with you.
Song List
CLASSICAL REPERTOIRE
Albeniz – Tango in D
Albinoni/Giazotto – Adagio in G Minor
Bach – Brandenburg Concerto #2, #3, #4
Bach – Double Concerto in D minor (2nd mv)
Bach – Jesu, Joy of Man's Desiring
Bach – Sheep May Safely Graze
Bach – Sleepers Wake
Bach – Air (Orchestral Suite #3)
Bach – "Little" Fugue in Gm
Beethoven – Allegretto (Symphony 7)
Beethoven – Ode to Joy (Symphony #9)
Fauré – Pavane in F# Minor
Handel – Arrival of the Queen of Sheba
Handel – La rejouissance (Royal Fireworks)
Handel – Air, Bourree, Alla Hornpipe (Water Music)
Ivanovici – The Danube Waves
Kreisler – Liebesfreud, Liebesleid, Schön Rosmarin
Mendelssohn – Wedding March (Midsummer Night's Dream)
Mouret – Fanfare-Rondeau (Masterpiece Theater theme)
Mozart – Alleluia (Exsultate Jubilate)
Pachelbel – Canon
Puccini – Musetta's Waltz (La Boheme)
Purcell/Clarke – Trumpet Tune and Air
Purcell/Clarke – Prince of Denmark's March
Sarasate – Romanza Andaluza
Schubert – Ave Maria
Vivaldi – Spring, Autumn, Winter (The Four Seasons)
Wagner – Bridal Chorus (Lohengrin)
CONTEMPORARY REPERTOIRE
All I Ask of You (The Phantom of the Opera)
Anne's Theme (Anne of Green Gables)
Ashokan Farewell (The Civil War)
A Thousand Years (The Twilight Saga)
Dawn (Pride and Prejudice)
"El Choclo" Tango (Scent of a Woman)
The Entertainer, Easy Winners, Solace (The Sting)
Feather Theme (Forrest Gump)
For Just a Moment (St. Elmo's Fire)
Libertango (The Tango Lesson)
The Ludlows (Legends of the Fall)
Moon River (Breakfast at Tiffany's)
Music of the Night (The Phantom of the Opera)
My Heart Will Go On (Titanic)
One Hand, One Heart (West Side Story)
Rhapsody & Theme (Somewhere In Time)
Romance (The Gadfly)
Somewhere Out There (An American Tail)
Sunrise, Sunset (Fiddler on the Roof)
Tango "Por Una Cabeza" (True Lies)
Think of Me (The Phantom of the Opera)
Through the Eyes of Love (Ice Castles)
Weep You No More (Sense and Sensibility)
Where is Love (Oliver!)
Popular Tunes
Amazing Grace (traditional)
Belle of the Ball (Leroy Anderson)
Gardenia Waltz (Johnny Gimble)
Greensleeves (traditional)
Hey Jude (John Lennon)
Londonderry Air (traditional)
Michelle (John Lennon)
Morning Has Broken (traditional)
Mountain Spring (Dean Marshall)
Run For The Roses (Daniel Fogelberg)
Solitaire (Neil Sedaka)
Yesterday (John Lennon)
12th Street Rag (Euday Bowman)
Classical Music for String Trio:
John Antes – Three Trios op. 3
Antes (1710-1811) was born in Pennsylvania and was a member of the Moravian church.
This set of trios is the earliest known chamber music written by an American-born composer.
Ludwig van Beethoven – Dance Trio selections
Beethoven (1770-1827) was a German-born composer and pianist.
He bridged the transition from the Classical era to the Romantic era.
Arcangelo Corelli – selection of Sonatas
Corelli (1653-1713) was an Italian violinist and composer of Baroque music.
The "Corelli school" was important in the development of violin playing and chamber music.
Franz Joseph Haydn – selection of Trios
Haydn (1732-1809), an Austrian, was one of the most prolific composers of the Classical period.
Wolfgang Amadeus Mozart – 5 Viennese Serenades
Mozart (1756-1791) was born in Germany and is one of the most celebrated composers of all time.
Giuseppe Tartini – selection of Trio Sonatas
Tartini (1692-1770) was a Venetian violinist, composer and music theorist.
Specialty Music
We have a large selection of –
Ragtime music for string trio
(works by Scott Joplin and Joseph Lamb)
Fiddle music for string trio
(bluegrass, jazz and Irish tunes)
Christmas music for string trio
(Sacred, secular and contemporary songs)
Complete repertoire lists are available on request.