About Guy Voss
A Great Disc Jockey For Your Special Event
When you're the busiest disc jockey in West Michigan, there must be a reason. When the finest banquet facilities in the area recommend you to their clients, there must be a reason. And, when brides and grooms from all over, as well as event planners from West Michigan's finest companies request your services, there must be a good reason. Guy Voss consistently earns the trust of everyone that counts on him to provide an evening of great music and fun.
Being a disc jockey is not just a part-time job for Guy Voss. As the disc jockey for Gary Fields Comedy Club since 1996 and an event producer for many of the areas largest companies, Guy Voss's work as a disc jockey is a career that keeps him busy 6 days a week.
Guy Voss listens and addresses your needs in a fun and professional manner. All of the details will be managed for you, so you can enjoy the day. Find out why Guy Voss is West Michigan's busiest and best disc jockey.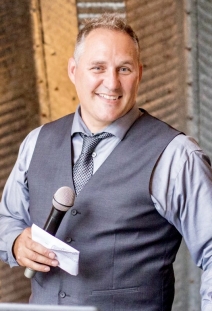 SPECIAL SERVICE FOR SPECIAL EVENTS
Whatever the size of your party Guy has the sound and lighting systems that can be tailored to your event. From 50 to 1,000 people, Guy Voss has special intelligent lighting guaranteed to provide a unique and sophisticated visual effect. And when it comes to sound systems, Guy Voss has several options available. Whether it's an intimate gathering, or a grand event at the Kellogg arena, your sound will be of the highest quality, and appropriate for your party.
GUY VOSS, THE BRIDE'S AND MOM'S BEST FRIEND
No one does more wedding receptions than Guy Voss. From helping to coordinate all of the day's activities, to filling the dance floor with your guests, Guy Voss understands all the important things that make a wedding reception a memorable event for everyone. A wedding reception is about you, and Guy Voss approaches all receptions with that in mind.
By coordinating all of the activities you've planned for your day and helping with the fun when it's time, you, your mom, the groom, and everyone will agree: We're sure glad we had Guy help us with our wedding reception.
THE BEST SERVICE, LIGHTING & SOUND EQUIPMENT
Professional, personal service
15,000+ song music library
Wireless Microphone
Lighting to Suit Your Needs
Sound Equipment Tailored to Your Event
Organization
Professional Hosting
Fun Entertainment
Highest Quality Sound and Lighting Equipment