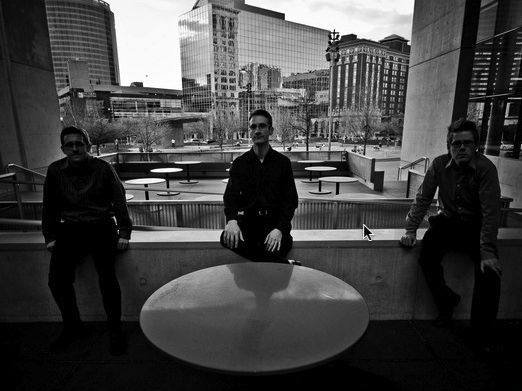 About Fred Knapp
Fred was born in Wickford, RI in 1974 to Fred and Linda Knapp. After moving from Flint, Lowell, and Kalamazoo, MI, he and his mother settled in Venice, FL where he attend Venice Middle School and High School. Fred's early musical training was one year of piano in 8th grade. Sports, specifically tennis, took up his time and the piano wasn't touched again until half way through his senior year. The event that brought Fred back to the piano was hearing a recording of Keith Jarrett's, " Paris Concert". Fred also was fascinated by the solo piano of George Winston, and David Lanz. He quickly went to work trying to create his own beautiful piano music. Within a week or two he had finished a piece called "Heavenly Flower" and performed it for the friend who recommended he audition for the school talent show. He made the talent show and performed the piece three nights in a row without a mistake. "All I can say is I was hooked! ", said Fred.
Following graduation, Fred attended Ferris State University for their Professional Tennis Management Program. As you might have suspected most of his time was spent at the piano. After a year at Ferris he decided to follow his heart and pursue a career in music. He asked Ferris' music professor where the best, closest, and least expensive school of music was, which led him to the Grand Rapids Community College.
Over the next four years at GRCC Fred studied privately with Dr. Mary Scanlan, Duane Davis, Kevin Dobreff, Lynn Asper, Tim Froncek, and Rupert Kettle, learning piano, voice, percussion, and arranging. While at CC Fred performed in the Colligates, the College Choir, and the internationally known vocal jazz group, "Shades of Blue". Shades director, Duane Davis, became Fred's most important musical mentor, allowing Fred the opportunity to sing and play piano for the group. Duane also gave Fred the invaluable experience of composing and arranging pieces for the College Choir and Shades of Blue. During his time at GRCC Fred began performing professionally around West Michigan, as a jazz pianist and vocalist. In early 1997, Fred was given the opportunity to study with Diana Krall when she was on tour in West Michigan. Diana shared her time generously, teaching about her favorite recordings and how to go about transcribing this great music. Also at this time he purchased he first drumset and began learning the basics of jazz drumming from Quincy Davis, Tim Froncek, and Rupert Kettle.
Fred continued his musical studies at Western Michigan University, where he studied classical and jazz piano with Dr. Steve Zegree and drumset with legendary jazz drummer Billy Hart. During his first year at WMU Fred recorded his first CD, "Singin' that Bop! " featuring his vocals, compositions, and lyrics. The CD received favorable reviews in both Down Beat and Cadence magazines. During his second year at WMU, Fred began to do most of his performing on drums and by the end of that year decided to concentrate his efforts on becoming the best drummer he could be. Western provided Fred great performance opportunities, an amazing faculty, and talented musical peers.
Since graduation from WMU, Fred has been busy getting married, moving back to Grand Rapids, MI, performing all over Michigan with his trio and working as a freelance musician. He is also teaching private percussion and piano out of his home studio. In the last year Fred has recorded two new CD's in the trio format. The first released was from the Fred Knapp Trio entitled "Happy Jazz", and the second was a co-led project entitled "Trinkle, Tinkle". Fred has performed and /or recorded with Xavier Davis, Rodney Whitaker, Conrad Herwig, Sunny Wilkinson, Tad Weed, Tom Knific, Trent Kynaston, Shawn "Thunder" Wallace, Kerry Strayer, Rick Holland, and a who's who of local greats such as Jon Shea, Kurt Ellenburger, Rob Smith, Steve Talaga, Dave Hay, Mel Dalton, Dave Spring, the Kalamazoo Big Band, and award winning area jazz ensemble Evidence. Fred strives for excellence as a musician and is constantly working to better himself as a musician and person.