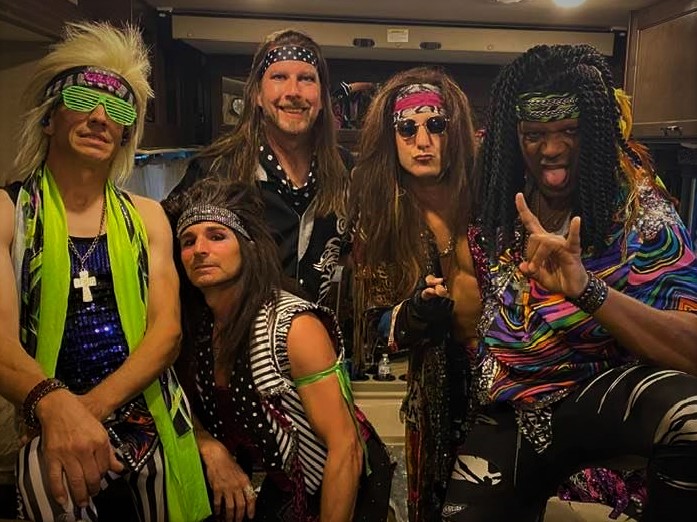 About RockStar
The Ultimate 80s Rock Experience!
ROCKSTAR "The International 80's Rock Sensation" recreates the sights, sounds, energy and excitement of an arena style 80s rock show for your club, theater, festival, or corporate event like no other  band can. You'll hear all the great hair band hits of the 80s performed so well you'll think you're listening to the original artists themselves.
Fans of 80's Rock  will love ROCKSTAR's wide selection of 80s hits. You'll hear songs by such 80s hair bands as Quiet Riot, Journey, Def Leppard, Bon Jovi, Poison, Motley Crue, Cinderella, Night Ranger, and many many others.
By having "Nothing But A Good Time" with "Girls, Girls, Girls",  80's Rock bands created a unique place in history by having a whole lot of fun while creating unforgettable anthems.  The era was considered the 'Decade of Decadence' because the shows were more than concerts; they were epic events. ROCKSTAR recreates that attitude and energy every night that they perform. In fact, ROCKSTAR has had the honor of sharing the stage with some of the original 80's greats including Steven Adler of Gun's & Roses, Berlin, Foreigner, Brett Michaels of Poison, Sebastion Bach of Skid Row, Night Ranger, Winger, .38 Special, Loverboy, Warrant, Faster Pussycat, John Waite, and many more.   Come see why ROCKSTAR is known as "The International 80's Rock Sensation" by getting the Ultimate 80's Rock Experience!
Song List
Jessie's Girl – Rick Springfield
Never Let you Go – Steelheart
Turn Up The Radio – Autograph
Working For the Weekend – Loverboy
One Way to Rock – Sammy Hagar
Nothing But A Good Time – Poison
Fallen Angel – Poison
Every Rose Has It's Thorn – Poison
Talk Dirty To Me – Poison
Unskinny Bop – Poison
Come On Feel The Noize – Quiet Riot
I Wanna Rock – Quiet Riot
Were Not Gonna Take It – Twisted Sister
Separate Ways – Journey
Don't Stop Believing – Journey
Stone In Love – Journey
You Give Love A Bad Name – Bon Jovi
Livin On A Prayer – bon Jovi
Bad Medicine – Bon Jovi
Dead Or Alive – Bon Jovi
Runaway – Bon Jovi
Lay Your Hands on Me – Bon Jovi
Love Song – Tesla
Pour Some Sugar On Me – Def Leppard
Animal – Def Leppard
Rock Of Ages – Def Leppard
Heaven's On Fire – Kiss
Wait – White Lion
Your Love – The Outfield
Rock You Like A Hurricane – Scorpions
Round and Round – Ratt
Lay It Down – Ratt
Sweet Child O Mine – Guns & Roses
Welcome To The Jungle – Guns & Roses
Paradise City – Guns & Roses
We All Die Young – Steelheart (Rockstar The Movie)
Here I Go Again – Whitesnake
Give Me All Your Love Tonight – Whitesnake
Still of the Night – Whitesnake
Firewoman – The Cult
Dr. Feelgood – Motley Crue
Same Old Situation – Motley Crue
Kickstart My Heart – Motley Crue
Home Sweet Home – Motley Crue
Never Enough – L.A. Guns
Juke Box Hero – Foreigner
Walk This Way – Aerosmith
Dude Looks Like a Lady – Aerosmith
Jump – Van Halen
Panama – Van Halen
Ice Cream Man – Van Halen
Eruption – Van Halen
Best of Both Worlds – Van Halen
Final Countdown – Europe
Youth Gone Wild – Skid Row
I Remember You – Skid Row
Say What You Will – Fastway
Smooth up in Ya – Bullet Boys
Shook Me All Night Long – AC/DC
Long Way to the Top If You Want to Rock and Roll – AC/DC
Cherry Pie – Warrant
Heaven – Warrant
Rebel Yell – Billy Idol
Sunglasses at Night – Corey Hart
Nobody's Fool – Cinderella
Coming of Age – Damn Yankees
The Flame – Cheap Trick
When I see you Smile – Bad English
When It's Love – Van Halen