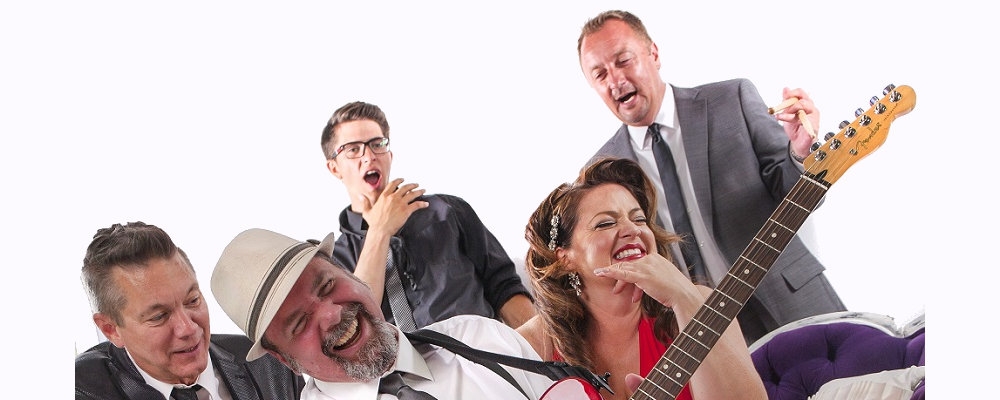 About Trilogy
Trilogy's wide-ranging song list features an amazing number of the most beloved dance hits spanning 5 decades and many genres. Each set features a well thought out variety of songs to please all ages and jam the dance floor wherever they go.
Since 1978, Trilogy has entertained and delighted hundreds of thousands of people at weddings, private and corporate events. Trilogy is a full-service music entertainment company that takes great pride in outstanding communication abilities and takes a thoughtful approach to each and every performance. Whether you need music for your wedding ceremony or for 50,000 festival goers, Trilogy easily delivers a level of excellence not found by most cover bands.
Trilogy is a 5-piece band offering to you their impeccable work ethic, talent, adaptability, and energy and musicianship. They attend each show sharply dressed and ready perform! On and off stage, each member has an engaging and approachable personality that, aside from music abilities, has become one of Trilogy's most significant defining features. From the minute they take the stage, Trilogy wins the crowd and cranks out hits from classic to current favorites, sing-along songs, and encourages audience participation. The crowd will keep dancing til closing time…No doubt party goers will not want the celebration to end! And Trilogy is always up for an encore or 3.
Song List
AC/DC – Shook Me All Night Long
Adele – Rolling In The Deep
Aerosmith – Dream On
Aerosmith – Walk This Way
B-52's – Love Shack
Billy Joel – Bennie & The Jets
Billy Joel – Piano Man
Blondie – One Way Or Another
Bonnie Raitt – Something To Talk About
Bow Wow Wow – I Want Candy
Bruce Springsteen – Dancin' In The Dark
Bruno Mars – Locked Out Of Heaven
Bruno Mars – Uptown Funk
Buffalo Springfield – For What It's Worth
Cheap Trick – I Want You To Want Me
Chuck Berry – Johnny B. Goode
Chuck Berry – Route 66
C-lo Greene – Forget You
David Bowie – Changes
DNCE – Cake By The Ocean
Donna Summer – Last Dance
Doobie Brothers – Takin' It To The Streets
Dr. Hook – Cover Of The Rolling Stone
Eddie Money – Take Me Home Tonight
Fitz & the Tantrums – Make Your Hands Clap
Fleetwood Mac – Landslide
Fleetwood Mac – Rhiannon
Four Non Blondes – What's Up
George Michaels – Careless Whisper
Georgia Satellites – Keep Your Hands To   Yourself
Gerry Rafferty – Baker Street
Gloria Gaynor – I Will Survive
Grand Funk Railroad – Some Kinda Wonderful
Greenday – Basketcase (Do U Have The Time)
Heart – Barracuda
Ike & Tina Turner – Proud Mary
Isley Brothers – Shout
Jackson 5 – I Want You Back
Janis Joplin – Bobby McGee
Jimmy Buffett – *Margaritaville
Jimmy Buffett – Cheeseburger In Paradise
Joan Jett – I Love Rock & Roll
John Mellencamp – Hurts So Good
John Mellencamp – Pink Houses
Jonathan Edwards – Shanty (Friday Song)
Journey – Don't Stop Believin'
Kid Rock – All Summer Long
Lady Gaga – Bad Romance
Lady Gaga – Million Reasons
Leonard Cohen – Hallelujah
Linda Rondstadt – When Will I Be Loved
Louis Armstrong – Wonderful World
Lynyrd Skynrd – Gimme Three Steps
Lynyrd Skynrd – Sweet Home Alabama
Mama & The Papas – California Dreamin'
Maroon 5 – Sugar
Marvin Gaye – Ain't No Mountain
Meagan Traynor – All About That Bass
Michael Jackson – Billie Jean
Ohio Players – Love Rollercoaster
Old Crowe Medicine Show – Wagon Wheel
One Republic – Counting Stars
Pat Benatar – Hit Me Best Shot
Patti LaBelle – Lady Marmalade
Pink – Get The Party Started
Pink – Raise Your Glass
Poison – Talk Dirty To Me
Poison – Your Mama Don't Dance
Prince – 1999
Prince – Purple Rain
Red Hot Chili Peppers – Love Rollercoaster
Rick Springfield – Jessie's Girl
Robert Palmer – Bad Case Of Lovin' You
Rolling Stones – Honky Tonk Woman
Sade – Smooth Operator
Shania Twain – Feel Like A Woman
Steely Dan – Deacon Blues
Steve Miller – Joker
Sting – Roxanne
Stray Cats – Rock This Town
Stray Cats – Stray Cat Strut
The Motels – Only The Lonely
The Outfield – Your Love (Josie)
The Proclaimers – 500 Miles
Tom Petty – American Girl
Tom Petty – Free Falling
Tom Petty – I Won't Back Down
Tom Petty – Stop Draggin' My Heart Around
Tommy Tutone – 867-5309 (Jenny, Jenny)
Toto – Africa
Toto – Hold The Line
Tracy Chapman – Gimme One Reason
Van Halen – Jump
Van Morrison – Brown Eyed Girl
Van Morrison – Have I Told You Lately
Walk The Moon – Shut Up And Dance
Warren Zevon – Werewolves of London