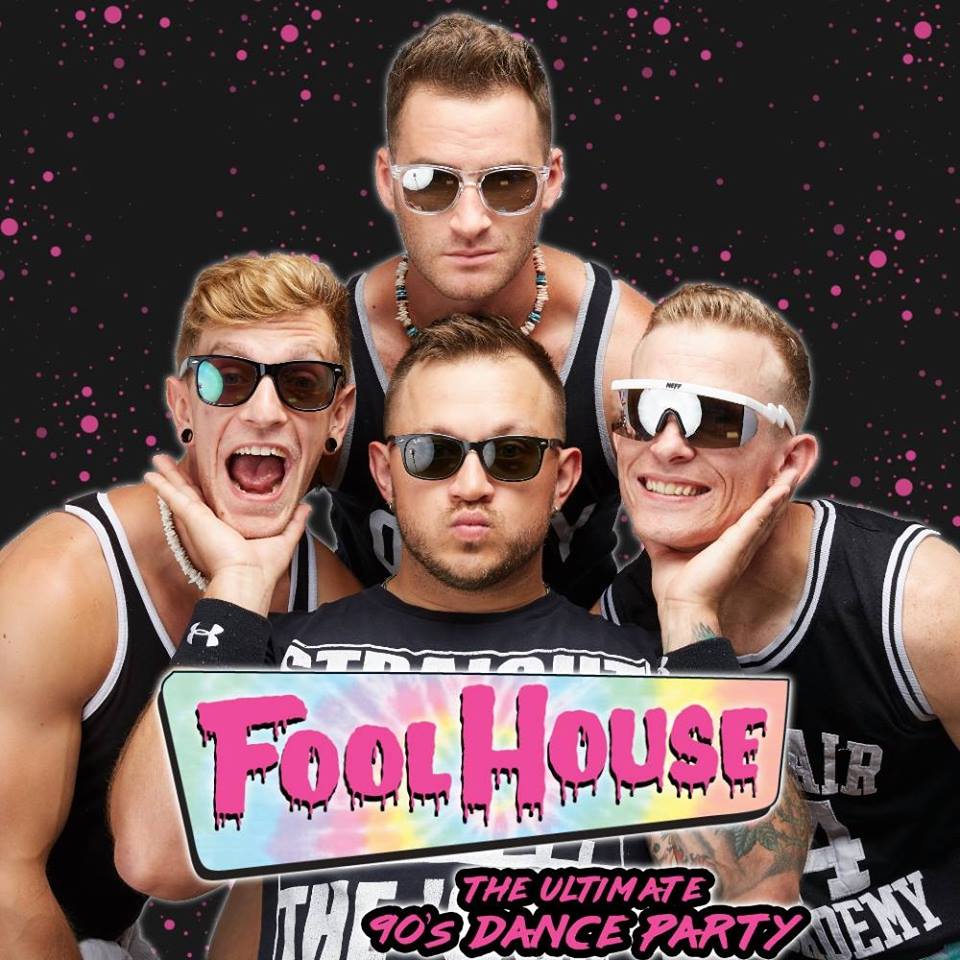 About Fool House
Fool House is THE ULTIMATE '90s DANCE PARTY! Between their laid back style, choreographed dance moves, and foolish sense of humor, they strive to create the ultimate party anytime they take the stage. ​
Bringing high-energy and loads of entertainment, Fool House is the perfect addition to any wedding or private event that you're planning.  We want to make sure your night goes as smooth as possible. Please note the services we offer below:
Professional sound system for parties of up to 600 people
Stage and dance floor lighting
Cocktail DJ music and DJ services for before or after our performance
MC for your event
Professional photography throughout the whole event
Acoustic guitarist and singer
STRING TRIO FOR CEREMONY
Uplighting for banquet hall​
We know the importance of getting things just right and we're here to help relieve your entertainment planning stress. With our many years of experience we know exactly what it takes to make your party a hit!
Song List
All Star – Smash Mouth
All The Small Things – Blink 182
Baby Got Back- Sir Mix A Lot
Baby One More Time – Britney Spears
Believe In Love – Cher
Big Pappa – Notorious Big
Black Or White – Michael Jackson
Boom Boom Boom Boom – Venga Boys
Busta Move – Young Mc
Bye Bye Bye – Nsync
California Love – 2Pac
Cant Touch This – Mc Hammer
Cotton Eyed Joe – Rednex
Everybody- Backstreet Boys
Everybody Dance Now – C + C Music Factory
Fight For Your Right – Beastie Boys
Flagpole Sitta – Harvey Danger
Get Low – Lil Jon
Gettin Jiggy Wit It – Will Smith
Hot In Herre – Nelly
I Believe I Can Fly – R Kelly
I Gotta Feeling – Black Eyed Peas
I Want It That Way – Backstreet Boys
Ignition – R Kelly
Ill Be There For You – The Remembrandts
Its Gonna Be Me – Nsync
Jump Around – House Of Pain
Lady Marmalade – Christina Aguilera
Larger Than Life – Backstreet Boys
Livin La Vida Loca – Ricky Martin
Macarena – Los Del Rio
Mambo No 5 – Lou Bega
Mmmbop – Hanson
My Own Worst Enemy – Lit
No Diggity – Blackstreet
No Scrubs – Tlc
Party Up – Dmx
Poison – Bel Biv Devoe
Pony – Ginuwine
Pretty Fly For White Guy – The Offspring
Real Slim Shady – Eminem
Ride Wit Me – Nelly
Santeria – Sublime
Say My Name – Destiny'S Child
Say You'Ll Be There – Spice Girls
Semi Charmed Life – Third Eye Blind
The Middle – Jimmy Eat World
This Is How We Do It – Montell Jordan
Tubthumbping – Cumbawumba
Wannabe – Spice Girls
What'S My Age Again – Blink 182
Whoomp There It Is – Tag Team